This project, Record Maps for Arachnids in Germany, was established to serve as the working basis and a source of data with respect to two areas:

1. Geographical distribution

2. Conservation efforts

It is intended to provide solid answers to the typical questions that arise with the report of a spider:
Has the species already been found in the region? Where and by whom? Is it rare or infrequent? How widespread is the species in Germany?
Thus every species map requires a detailed source list for all reports (but only the information necessary to produce the map. Purely ecological aspects are thus missing). The classification of such reports by decade is intended to provide long-term documentation of changes in population numbers, thus providing a fundamental basis for the preparation of endangered species (red) lists using reliable data.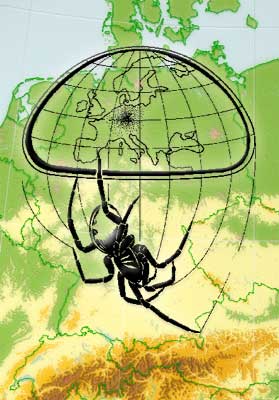 Photographers:
Piet Tutelaers
Winfried Borlinghaus
Friedrich Koch
Aloysius Staudt
Dr. Steffen Dillinger
Martin Lemke
Jürgen Peters
Gerhard Büchler
Dr. Peter Jäger
Mike Lauterbach
Dr. Christian Komposch
Brigitte Komposch
Dr. Barbara Knoflach
Dr. Jürgen Gruber
Guido Gabriel
Arno Grabolle
Pierre Oger
Patrick Neuberg
Werner Rose
Ingolf Rödel
| | | |
| --- | --- | --- |
| | | |
| | | Wurzburg, Bavaria |
| | | |
| | | |
| | | |
| | | Natural History Museum Senckenberg, Frankfurt on the Main |
| | | Lübeck, Schleswig-Holstein |
| | | |
| | | Bonn, North Rhine-Westphalia |
| | | Münster, North Rhine-Westphalia |
| | | |
| | | Göhren-Lebbin,Mecklenburg-Vorpommern |
| | | |
| | | Florence of the Elbe, Saxony |
| | | Walldorf, Baden-Württemberg |
| | | |
| | | Lugau, Brandenburg |
| | | Mainz, Rhineland-Palatinate |
| | | Natural History Collections, Munich |
| | | |
| Dr. Alexander Sührig | | Göttingen, Lower Saxony |
| Sebastian Voigt | | Halle, Saxony-Anhalt |
| | | Haßloch, Rhineland-Palatinate |
WEB realisation:

Graphics and layout:
Aloysius Staudt
Code optimization:
Piet Tutelaers Eindhoven/NL
Martin Lemke

Lübeck
Michael Hohner

Nuremberg

Translation:
Kevin Pfeiffer

Berlin